The bombers are out in full force!
We're catching fish at Sportsman's Lodge on Lake of the Woods. 27-30 feet of water has been producing with the best results using fat head minnows and frozen shiners for bait.
Hot jigs have been a Gold Gem-N-Eye's and White Demon Jigs.
We're sitting on 18-20 inches of ice and with temps in the 20's all week we will continue to make good ice.
Tip of the Week
The bite is a little softer right now. Pay close attention to your rod when you're jigging because often the fish is on your hook but they aren't running yet. You might just feel dead weight or your rod loading up. This does give you time to make a great hook set though!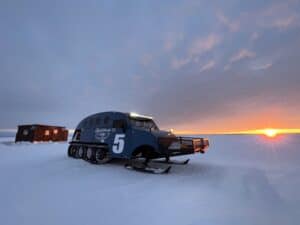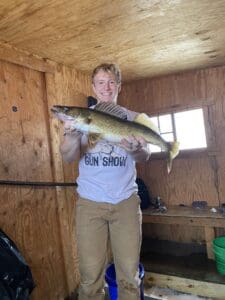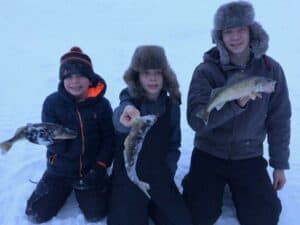 Food and Entertainment
We have a wonderful menu and great live entertainment most weekends. Check out our upcoming schedule of events HERE.
Snowmobile Trails
Trails are marked and grooming is in progress. For more information about the trails and the latest on the land trails, check out Lake of the Wood's Drifters and the Northwest Angle Edge Riders Facebook pages. For more information on snowmobiling and other activities visit LakeoftheWoodsMN.com.
Friendly Reminder to Keep it Clean
We all love this incredible resource and to continue to make it a great place to enjoy we need to keep it clean. Let's all work together and Keep it Clean by not leaving any garbage on the lake or disposing of any down the ice holes. Thank you for your shared cooperation.