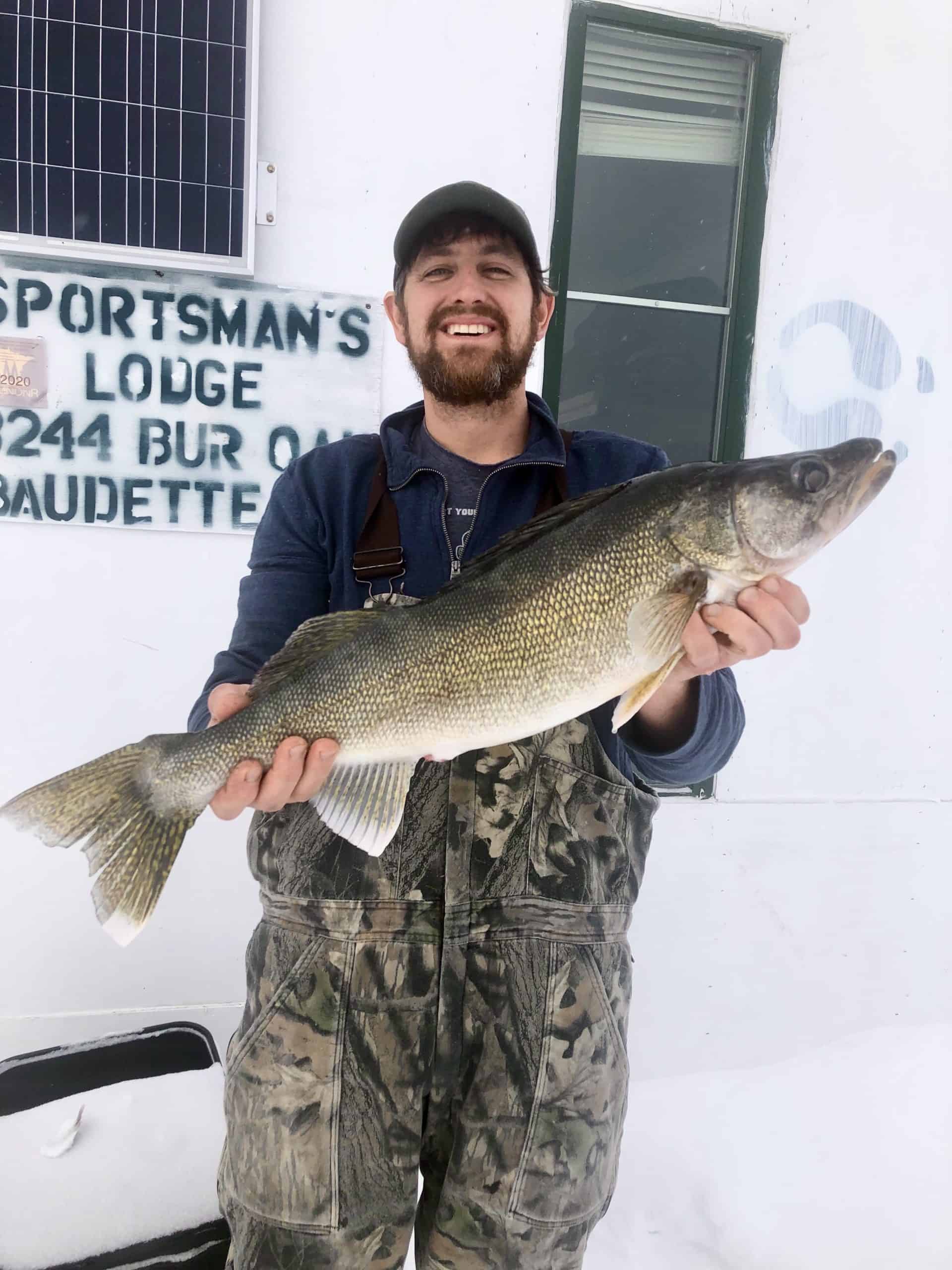 Book your
sleeper trip now
Click here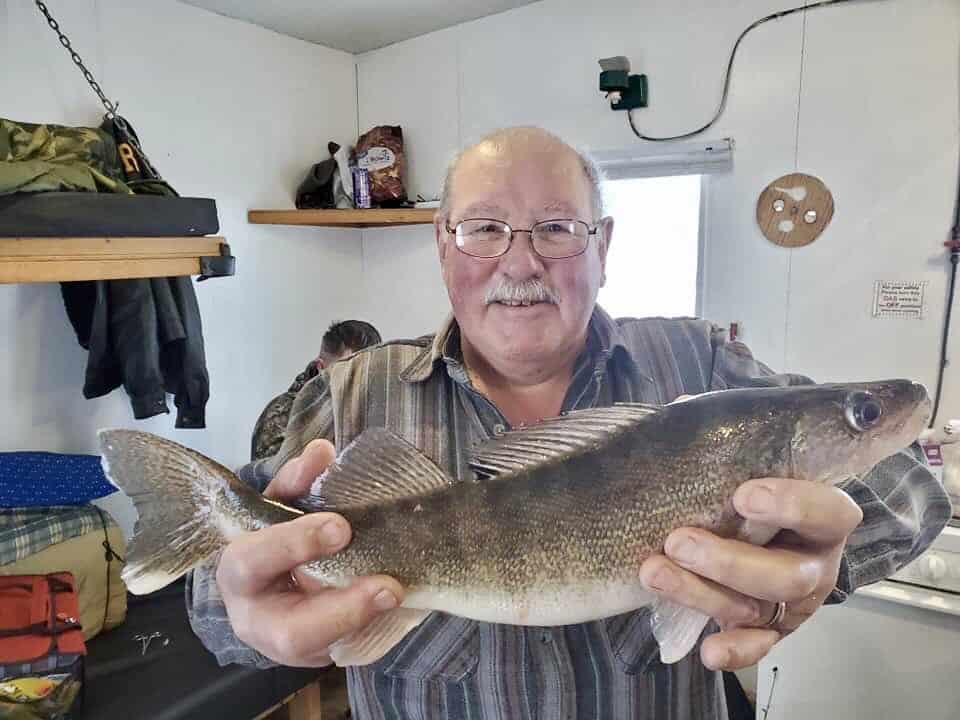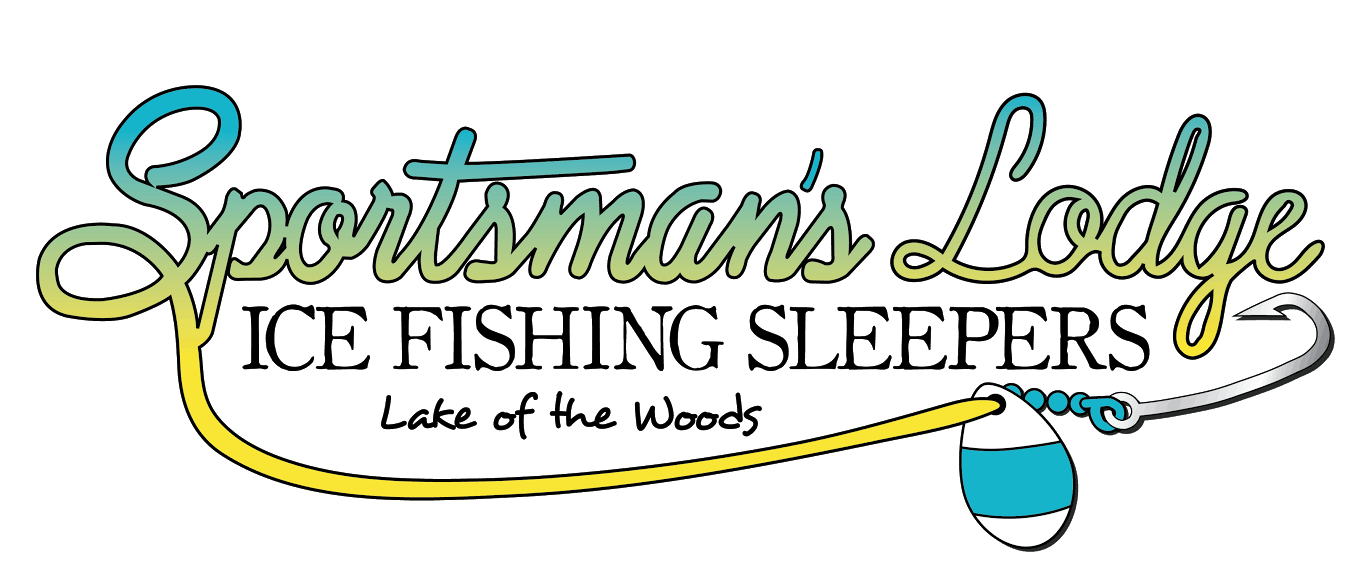 Dan Gibbins has more than 40 years of guiding under his belt and he takes the business of finding fish very seriously! He and his experienced crew are all avid fishermen, so their combined efforts, will assist you in achieving fishing success. Staying in a Sleeper Fish House is like camping on the ice and is a great way to dedicate your entire vacation to ice fishing.
The Service starts when you arrive at our parking lot. We will help you transport your gear into the Bombardier track vehicle and bring you out to a heated clean fish house. The holes are drilled, bait is provided and as soon as you get settled in, you are fishing.
Part of the fun is being left out on the ice on your own, but there is also security in knowing that a marine band radio connects you to the mainland in the event of an emergency – like running out of bait!
Make a Reservation Now!
218-634-1589
Our sleeper fish houses are 12' x 18' and 12' x 14' with a vaulted ceiling for a spacious feeling. They are furnished with a table, chairs, and bunks to sleep up to 6 people. The houses have propane heat and solar LED lights. Every Sleeper house also has its own attached restroom – "outdoor biffy".
For your cooking needs, each house is equipped with a propane stove and oven, dishes, pots, pans, percolator, cooking utensils, flatware, dish soap, and dish towels. We also provide clean water in 5 gallon containers for cooking, drinking, and washing dishes.
For those folks who wish to have electrical capability on the ice; we have a few houses with Limited Solar Electricity and we also have a few small generators for rent. These are reserved on a first come basis with a fee of $40 per day. For the folks that have their own small generators that wish to bring them; you will need a basic extension cord to plug your generator into the outside of the house. You may also want to bring a power strip and additional extension cord for the inside of the fish house as there is only one receptacle hardwired into each house for this use.
There are marine band radios in our equipment and in our sleeper houses so that you may contact us during the day. If you need to contact the Sleeper Office in the evening or after hours. Cell phones are the preferred method for communication.
Haven't stayed in a Sportsman's Sleeper Fish House? Here's what your trip will look like!
A lot of first-timers are interested in what a Sportsman's Sleeper trip actually looks like.
Take a look at the pictures below to see what our Sleeper Fish Houses look like on the outside and inside and some of the fish you'll be reeling in on your trip!
All rates stated below are per person plus tax.
| WEEKEND | RATE |
| --- | --- |
| 2 DAYS/ 2 NIGHTS | $280 |
| 3 DAYS/ 3 NIGHTS | $373 |
| 4 DAYS/ 4 NIGHTS | $460 |
| WEEKDAY (MON – THURS) | RATE |
| --- | --- |
| 2 DAYS/ 2 NIGHTS | $252 |
| 3 DAYS/ 3 NIGHTS | $328 |
| 4 DAYS/ 4 NIGHTS | $408 |
Midweek rates not valid December 1 – January 2.
No Meal Plans Available with Sleeper House Stay
Electricity is available for your house $40 daily. Ask for availability.
Full House Discount: 6 Adults in one house is a 5% Discount
Family Specials: 4 years and under Fish Free*
Children 5 through 12: $30 per person/per day.
Teens 13 through 17: $85 per person/per day.
*Each child must be accompanied by an adult.
February Sweetheart Special: Bring your sweetheart and they may stay for $85 per day.
All rates are per person and a minimum of two adults or a minimum two-person price is required for all fish house reservations. Minimum 2 night stay required. Arrivals and departures may be scheduled between 7:00 a.m. and 4:00 p.m.
We will try to accommodate special errand requests, but we cannot guarantee them. When we can accommodate requests, they will be completed during regularly scheduled trips. We do not make any trips before 7:00 a.m. or after 4:00 p.m unless it is a medical emergency
General Information & Policies
We Provide
Coffee Pot
Pots/Pans/Dishes
Cooking Utensils/Flatware
Dish Soap
Drinking & Cooking Water
Bait
Bring Along
Coffee
Food/Beverages
Towels
Filet Knife
Sleeping Bag
Pillow
Fishing Gear
Personal Items
Coolers
Exterior & Interior Pictures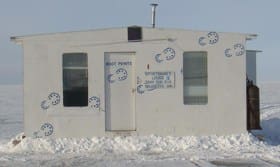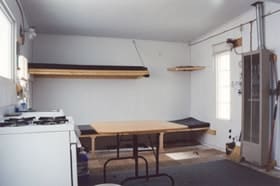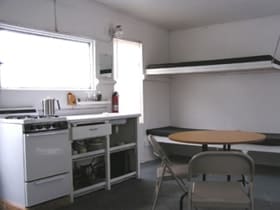 Vexilar
Vexilars are available to rent for $20 per day. Please call 218-634-1589 to reserve one.
Deposit & Cancellation Policy
A deposit of $50 per person is required at the time the reservation is confirmed.  The deposit is non-refundable. Groups that show up with fewer people will not receive credit for deposits for no-shows. No refunds will be given for early departures or reductions in group size. You will be charged for what you reserved.
Methods of Payment
Accepted methods of payment are cash or check (with identification). We do not accept credit cards.
Fishing Licenses
A Minnesota fishing license is required. To purchase a license click here or call 888-MN-LICEN (665-4236). 
Shower House
A shower house is now available to use at Bur Oak Campground just down the road from the sleeper office. The showers are coin-operated.