Imagine spending the day bobbing along the waves; just you and five of your favorite people, soaking up the sun, spending a summer day in style on a Minnesota fishing charter boat out of Sportsman's Lodge on Minnesota's Lake of the Woods. Nothing can compare to Minnesota charter fishing for walleyes & saugers!
Not sure when you want to book a fishing charter?
Choose by our seasonal guide on fishing, where you can learn more about migration, patterns, and conditions during all the different seasons. Click here now to view our best fishing by season!
Make a Reservation Now!
800-862-8602
You won't believe how easy  we make it.
No equipment or previous experience required.
We clean your fish and deliver them directly to your room.
Rods, reels, bait, tackle and pop & water are all provided.
Comfortable 27' SportCraft with on-board restroom, cabin cuddy & covered top.
This is no guessing game.
Experienced Coast Guard Licensed Guides will be in charge of your journey. Click here to meet our charter fishing guides now!
When you hit the lake with the Sportsman's guides service, you're benefiting from over 200 years of combined experience. The Sportsman's Fishing Charter Guides know where to find the fish on Lake of the Woods, and they know how to navigate the sometimes tricky waters of the big lake. And with over 14,500 islands, 65,000 miles of shoreline, and nearly one million acres of water, it's a good idea to have someone on board who knows where they're going on the international waters of Lake of the Woods.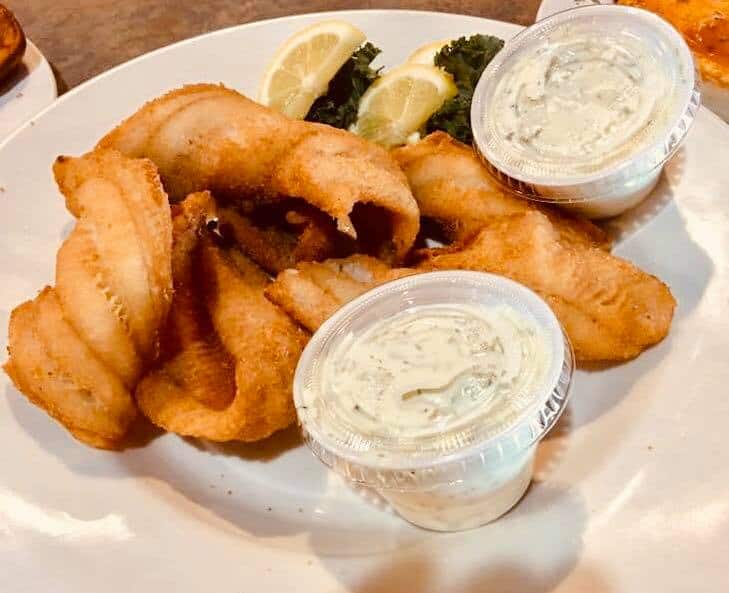 Enjoy your fresh fish as an appetizer in our bar or dining room.
We'll cook up the fish you worked hard to catch in our dining room or bar after a day's trip. Just let us know how you'd like it prepared!
We also offer a shore lunch option. Enjoy your morning catch for lunch. Watch your guide cook your fresh Walleye over an open fire. Accompanied by potatoes, beans, bread and cookies for dessert.
And if that isn't enough, you can even experience two properties & two totally different experiences in one trip with our Adventure Packages.
Your Charter Fishing Vessel
A 27′ SportCraft is the boat of choice for your chartered fishing tour. Holds up to 6 passengers (Coast Guard  regulations). Equipped with an onboard restroom.
Groups less than 6, most guests prefer and we recommend the private Minnesota charter fishing option, for an additional charge per slot you can have the boat to your group exclusively! It's the way to go! More choices, more freedom to do what you want on your vacation. Should you choose not to buy out your boat, other parties will be added to your crew to fill the boat at our discretion. For groups of 5, we don't add singles, you'll be charged the private charter rate.
Choose from half or full day trips.
Full Day, 8am – 5pm – The most popular and best value!
Half Day, 8am – noon or 1pm – 5pm 
Lunch Options
Box Lunch or Shore Lunch available
Box Lunch Includes:
Sandwich, Chips, Snack, Cookie
Let's get started! Check out our Charter Fishing rates by season.
Check out our fishing FAQs.
Everything you need to know about fishing at Sportsman's in one convenient place.
Fishing by season, species, limits, licenses, tournaments, our guides, FAQs and more. Everything you need to know about fishing at Sportsman's can be found right here.
Click here
to schedule a call with our Group Coordinator or click below to book your trip!