Fishing by season, species, limits, licenses, tournaments, our guides, FAQs and more. Everything you need to know about fishing at Sportsman's can be found right here.
Licenses, Limits & Season Open Dates
Limit Information
Daily and possession limits are the same unless otherwise noted. This information has been taken from the Minnesota Fishing Regulations information printed by the DNR and is deemed reliable but not guaranteed. Regulation books are available at the lodge for your convenience or can be viewed online here.
Licenses
Minnesota Fishing licenses are available to purchase online here or by calling 1-888-MN-LICEN (665-4236).  
Walleye & Sauger
May 15, 2021 – April 14, 2022
Limit of 6
Not more than 4 can be walleye; only 1 walleye over 28″; walleye 19 1/2″ through 28″ must be immediately released.
Four Mile Bay & Rainy River
(Four Mile Bay is the SE bay of Lake of the Woods near Wheeler's Point)
May 15, 2021 – Feb 28, 2022
Limit of 6
Not more than 4 can be walleye; only 1 walleye over 28″; walleye 19 ½" through 28″ must be immediately released.
March 1, 2022 – April 14, 2022
Catch & Release
Northern Pike
Limit 3 
Only 1 over 40″; all northern pike from 30″ through 40″ must be immediately released. 
Lake Sturgeon
October 1 – April 23
Catch & release only
April 24 – May 7
One per calendar year. Fish must be 45″-50″ inclusive or over 75″. Immediately upon reducing a fish to possession, you must validate and attach your sturgeon tag. Harvested sturgeon must be registered within 48 hours.
May 8 – May 15
Catch & Release Only
May 16 – June 30
Closed
July 1 – September 30
1 per calendar year. Fish must be 45″-50″ inclusive or over 75″. Immediately upon reducing a fish to possession, you must validate and attach your sturgeon tag. Harvested sturgeon must be registered within 48 hours.
Best Fishing By Season at Sportsman's
The extended walleye season we enjoy on the Canadian border allows for a phenomenon not available for much of the state. The warming weather and increased currents at the beginning of April work to open the Rainy River just as the walleyes are beginning their spring run. The action is fast, and the fish are huge, pulled up one after another. Most fishermen prefer jigging with minnows this time of year.
Walleye season closes from mid-April to mid-May, giving anglers an opportunity to try their luck with Minnesota's largest fish – the mysteriously prehistoric lake sturgeon and the frisky fighting northern pike. Lake of the Woods is proud to be one of the top ten lakes in Minnesota offering the best catch opportunity for you to catch a trophy sized sturgeon or pike in the whole state.
The warming waters of early summer show walleye in the shallow waters and sandbars of the South Shore. Anglers at the beginning of the season drift and troll with spinners. As Lake of the Woods continues to warm and clear, the walleyes move deeper towards the mudflats and rock reefs. Controlled depth fishing, more commonly known as "down rigging" is another method used during the hot months of July and August, bringing in monster walleyes with plugs and shad raps.
While minnows start out the summer, leeches and crawlers are the bait of choice in the later months.
Fall at Lake of the Woods is best known for the emerald shiner run that hits the Rainy River in the mid-fall, typically the end of September/beginning of October.
Walleye fishing during the run has been compared to the frantic spring action of first ice-out! But if you're looking for multiple species in one trip, the lower fall levels on the Rainy offer unbeatable action for northern, lake sturgeon, even smallmouth bass!
Jigging is the presentation of choice, with pink and gold typically finding success for walleye and green usually bringing in smallmouth. Red and white or silver spinners traditionally show well with northern. Book a guided trip or bring your own boat and take advantage of our fall packages and deals.
Winter fishing on Lake of the Woods is the best you can find. According to DNR studies, the catch rate is better than any place in the state and no one does it like we do!
Early December through early January at first ice is always an excellent time to enjoy active fishing and trophy walleyes. We start our season as soon as we have 8-12 inches of ice in early December.
The end of January through mid February good eating saugers are eager to bite your line. We also usually start seeing a lot of suspended trophy walleyes during this time. Renting or bringing along a fish finder like a Vexilar is a great way to find some of these walleyes. The end of February and on into the end of March when the sun is out longer and the temperatures start to warm really gets the walleyes and saugers active. We can have our fish houses out until March 31 unlike many lakes in Minnesota so you have lots of time in the winter months to get in on some excellent fishing.
Most of our guides have 20 plus years of experience on the Lake of the Woods.
Most of them don't consider it a job.
"I kind of feel like I'm stealing money sometimes to fish for a livin'. There's that bumper sticker that says, 'A bad day of fishing is better than a good day of work.' Well, that bumper sticker really inspired me to wanna fish everyday and there's nothin' I love better than putting a group on a pile of fish!" – Captain Beckel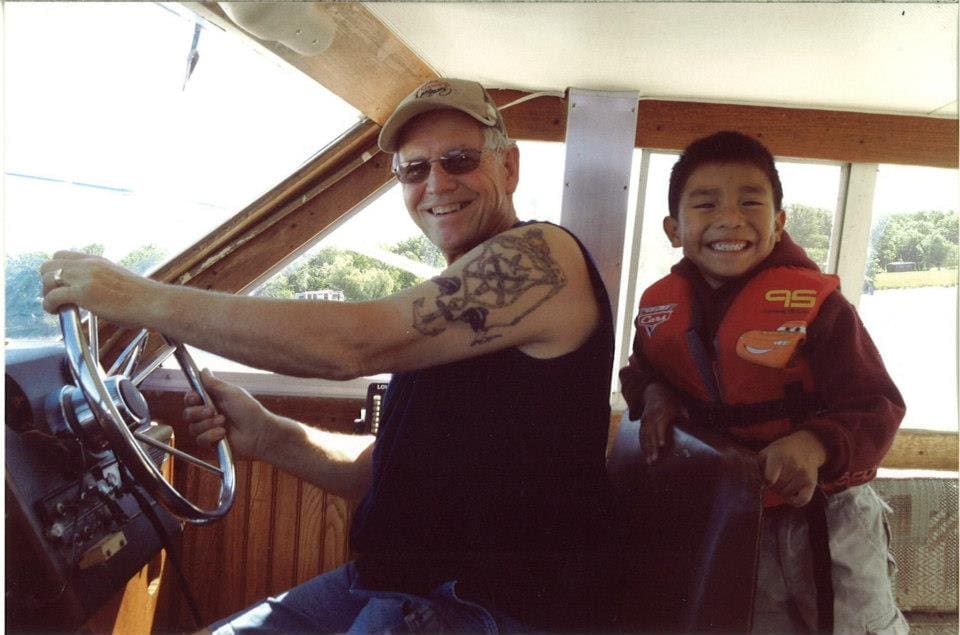 Kit Beckel
A popular long time fishing guide for Sportsman's Lodge, Kit has been guiding for over 50 years! This outstanding career started back when Kit was a mere 13 years old and he's well known as the Lake of the Woods Legend. Kit also hosted Lt. Governor Carol Molnau during the 2004 Governor's Fishing Opener on May 15.
Kit has been guiding visitors and guests of Lake of the Woods since 1960. His family moved to the area in 1959, from Austin, Minnesota, and owned Trails End Resort (which is now a part of Wigwam Resort). His dad purchased Kit his first launch (charter boat) when he was 13. In 1971, the Beckel family established Sportsman's Lodge, located along the Rainy River. Operated with his brothers and their families, the "the Beckel Brothers" built one of the largest resorts in the area. In the mid 1990's, the resort was sold to its current owners, the Hennum family.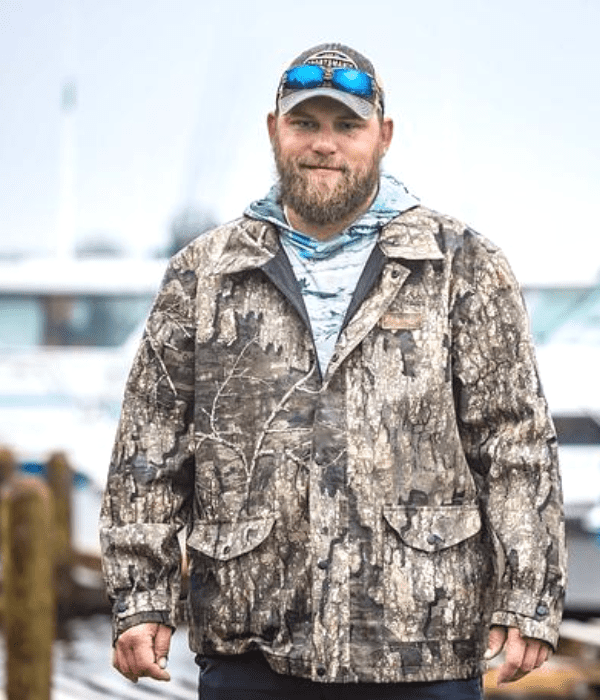 Derek G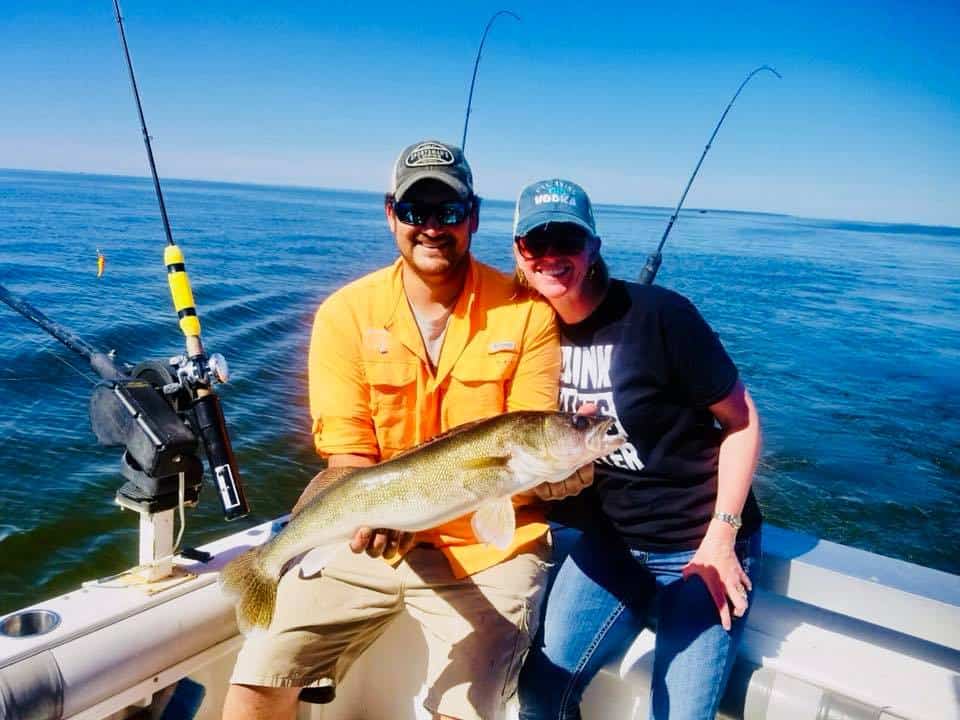 Mike Marquardt
Mike has been fishing with us for over 9 years and always has happy customers.  He is a much sought after guide and loves what he does.
Mike's advice when it comes to fishing is to have fun with it. After all, a bad day of fishing is still better than a good day at work!  He enjoys teaching kids about fishing and sharing his love of the area.
When Mike isn't fishing for work, he enjoys fishing on his own or with friends as well as hunting in the fall and snowmobiling in the winter.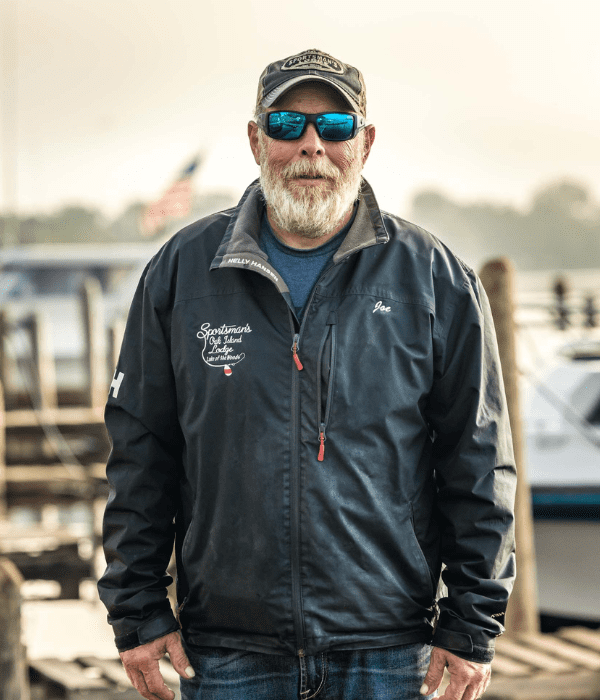 Joe Anderson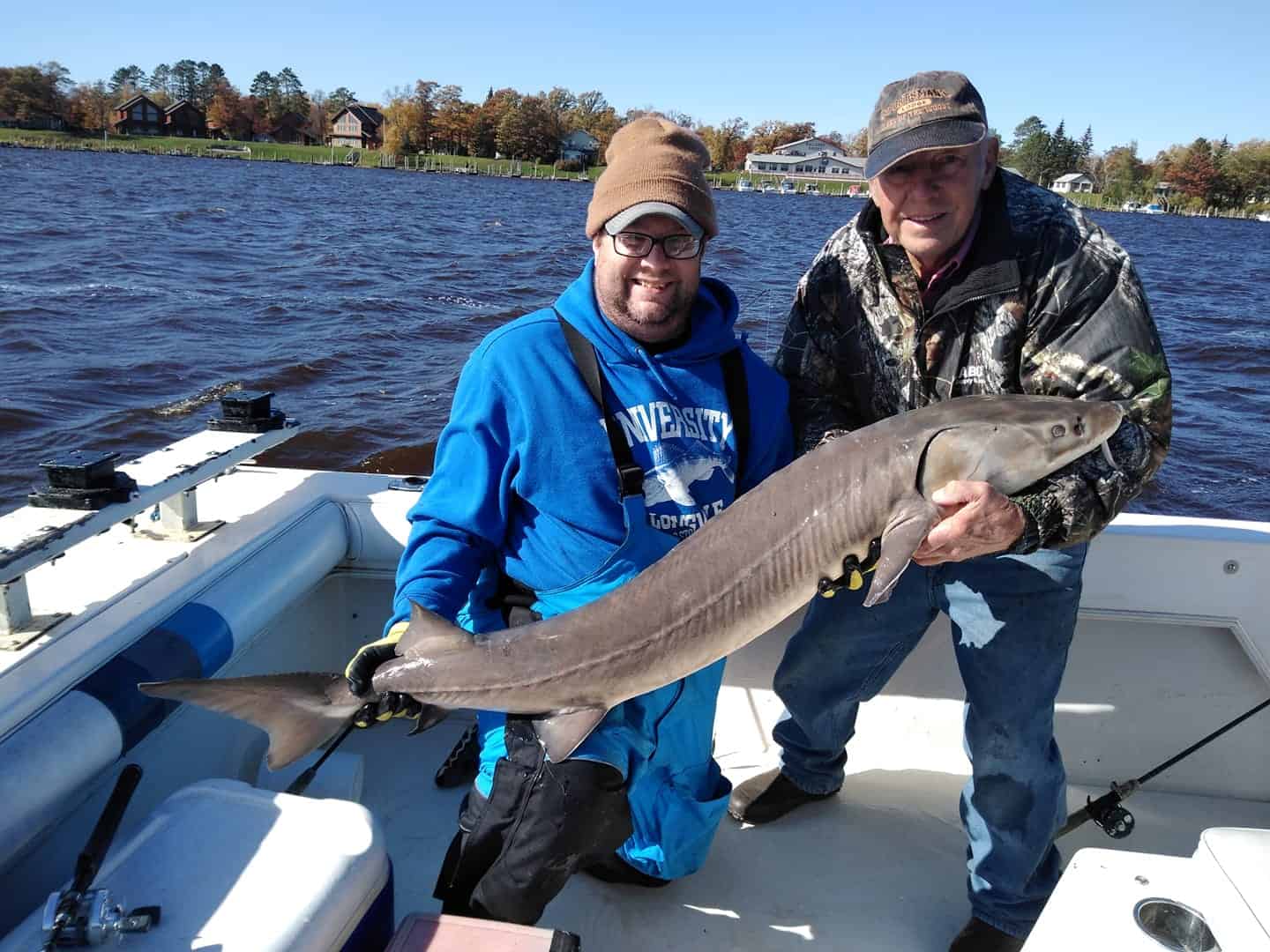 Ralph Christofferson
Ralph and his family have an insatiable passion for fishing and hunting.  He has more than 50 years of fishing experience. Ralph has been fishing on Lake of the Woods for the past 30 years and professionally guiding for the past 7.  He enjoys helping others enjoy the great fishing we have on Lake of the Woods. Ralph's favorite fish is the walleye and Ralph can't think of any better lake other than, Lake of the Woods to fish for walleye.  One of his favorite features about Lake of the Woods is walleyes can be found all year and all day long. The methods based on time of year and weather must be changed, but Lake of the Woods proves over and over, day in and day out just how incredible a fishery it really is.  When Ralph is not fishing he enjoys volunteering for the Annual Local Take a Kid Fishing event, Let's Go Fishing seminars and teaching Rod Building classes.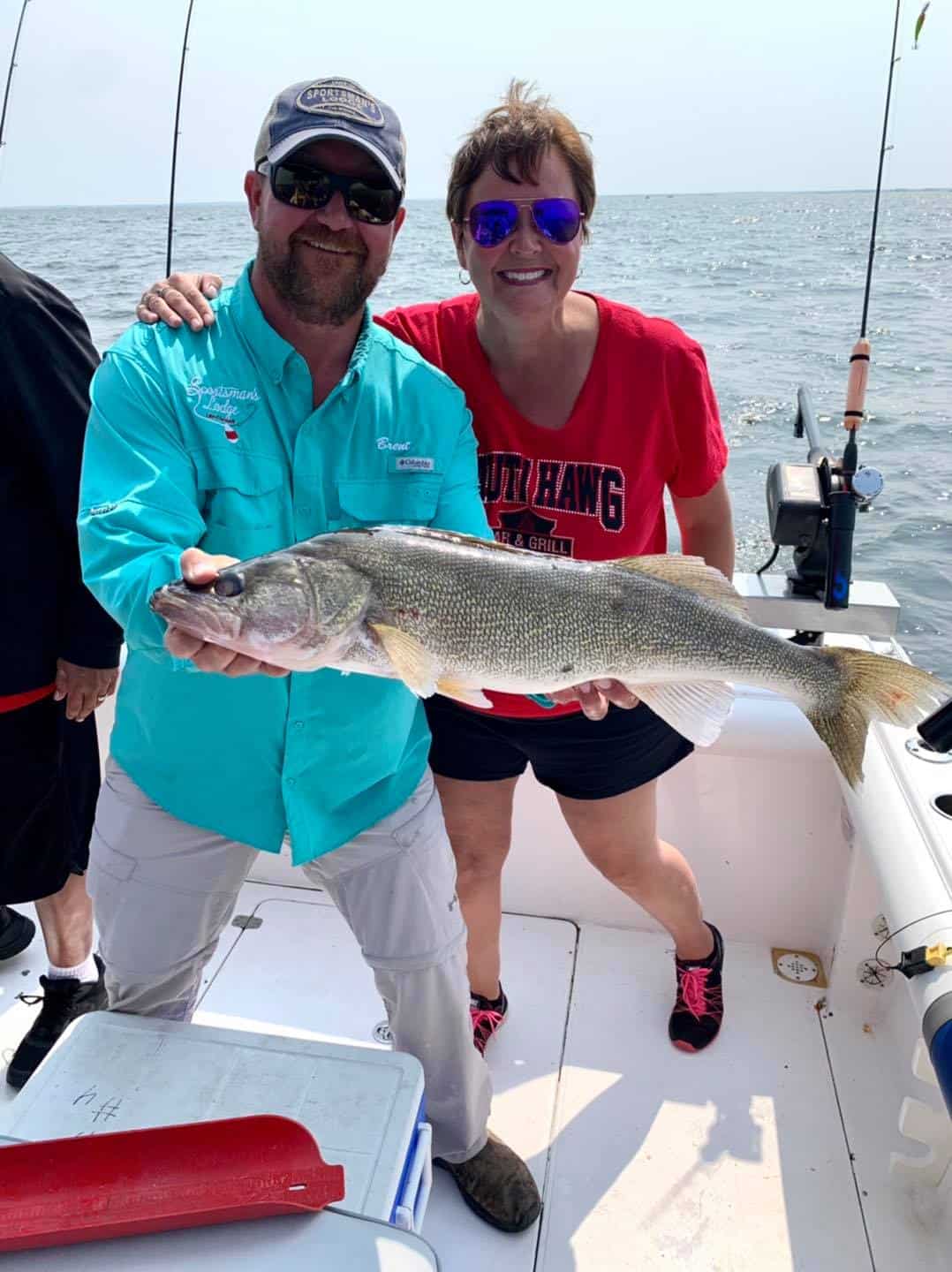 Brent Fredrickson
Brent has been living and guiding in Baudette for 5 years, and fishing Lake of the Woods for 25 years!  His favorite thing about fishing is the excitement of feeling the fish bite.  He always says that Lake of the Woods has endless spots to fish and enjoys seeing the customers with a smile on their face.  When Brent isn't fishing, he's enjoying the outdoors and hunting.  When you hop on his boat in the morning, you can bet you will hear "Fish on!"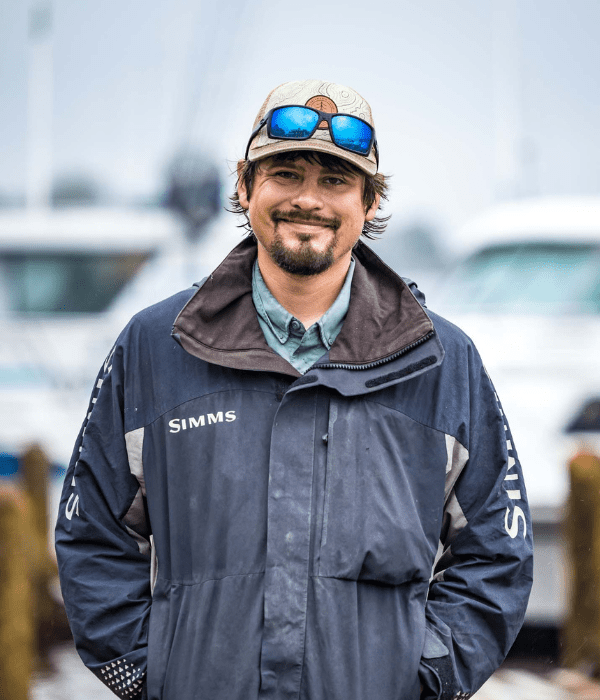 Hunter Geatz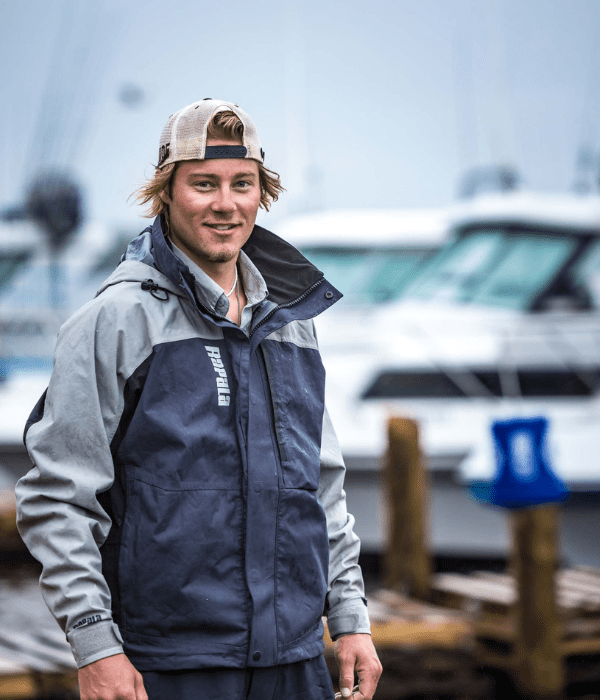 Tanner Wood
The walleye is the king of fresh water game fish and Lake of the Woods, the walleye is renowned for it's flakey white fillets.  The walleye is the most sought-after fish in Minnesota.  The average walleye caught and kept is about 14 inches long and weighs slightly more than 1 pound, however it is not uncommon to snag a trophy between 8lbs and 13lbs on the Lake of the Woods.  The walleye is named for its pearlescent eye, which is caused by a reflective layer of pigment, called the tapetum lucidum, that helps it see and feed at night or in murky water. We also catch Sauger which are remarkably similar to walleye but are the smaller of the pair. The most notable different is the dorsal fin – on a sauger it's spotted, where on a walleye it's not. Once they're in the pan, it's hard to tell the difference!
Most northerns caught by fishing run 2 to 3 pounds, though trophies over 20 pounds are caught each year. Lake of the Wood's is home to numerous monster pike and is one of the top 5 lakes in MInnesota to catch a trophy. A close cousin to  the muskellunge, the northern pike lives in nearly all of Minnesota's lakes and streams.The quickest way to tell a northern pike from a muskie is to note that the northern has light markings on a dark body background, while muskies generally have dark markings on a light background. A foolproof method is to count the pores on the underside of the jaw: the northern has  five or fewer; the muskie has six or more. Northerns also have rounded tail fins, compared to the pointy tail fins of a muskie. This fish is best enjoyed baked, pickled or smoked.
The lake sturgeon is Minnesota's biggest fish. It can weigh more than an adult human. The torpedo-shaped lake sturgeon lacks scales. It is covered instead with plates, called scutes. Its nose is flattened and slightly upturned, with four barbels underneath. Its mouth, which it can extend like a tube, is set back from the end of the snout. The top of its tail is longer than the bottom.The Lake sturgeon generally range from 5 to 40 pounds and 20 to 70 inches long. But sturgeon may grow to more than 300 pounds and 8 feet long. We see several caught between 40 – 70 inches each year, especially in the spring. Sturgeon are green-yellow to blue-gray to black. The young are reddish-brown. Like most fish, their color changes as they get older and larger. This is an excellent fish to smoke.
The yellow perch is one of the most commonly caught fish in Minnesota, however on Lake of the Woods it is really only seen in the warmer winter months of February & March or early Spring. This smaller cousin of the walleye is good to eat and eagerly bites worms, but it often is so small that anglers throw them back into the water. Like sunfish and bluegills, perch are considered "panfish," or fish commonly caught to be cooked in a frying pan and eaten.  The perch is a a small fish that is yellow on the sides with wide dark bands coming down the sides from its back. It's average length is about 6 inches but some reach a foot or more and average about 1/3 pound.
With its slimy skin and tendency to wrap itself around your arm, the burbot is considered by many anglers to be the "fish" of fish. But in fact this beautiful cousin to the saltwater cod, commonly known as eelpout, is a remarkable predator that is excellent to eat. Boiled to perfection and dipped in drawn butter, it is said to be a "Poor Man's Lobster'! The burbot looks like a cross between an eel and a catfish. It has a long body with smooth skin and a single whisker under its chin.Up to 30 inches, but average length is about 16 inches. Average about 2 pounds but can reach up to 18 pounds. It is has a brownish back and sides with black and dark brown splotches.
Sportsman's Sturgeon Tournament
We are looking forward to the 16th Annual scheduled for May 6 & 7, 2022. The tournament is full for 2022 but, we are taking a waiting list. To be added to the waiting list, contact us at book@slodges.com or 800-862-8602.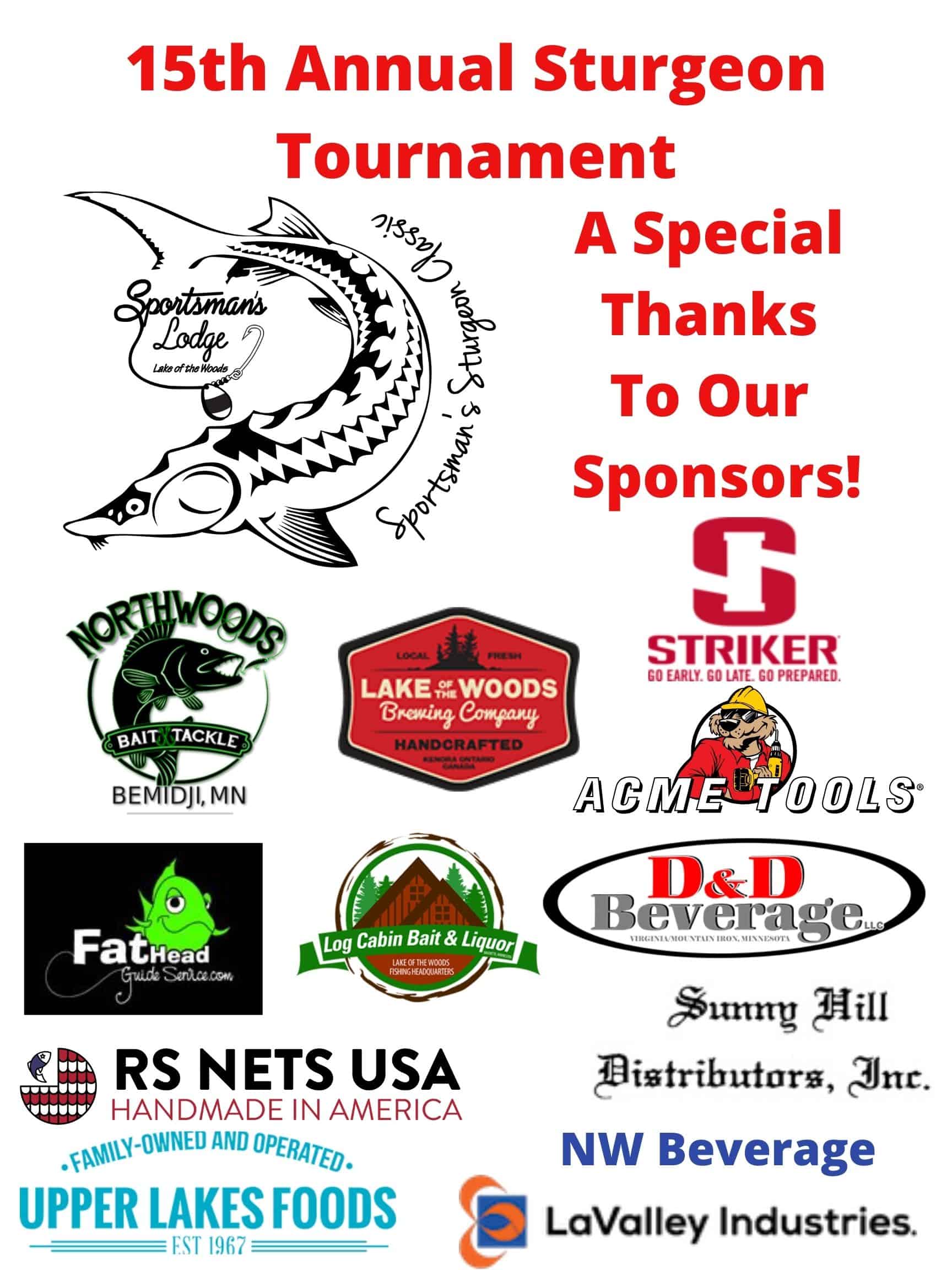 The 15th Annual Sportsman's Sturgeon Classic Tournament was held at the lodge May 7 & 8, 2021. 200 anglers and 60 boats enjoyed another year of beautiful spring weather and lake sturgeon fishing in a 1.2 mile stretch out in front of the lodge on the Rainy River.
Each day the participant with the longest measured sturgeon went home with $3,000 in cash, 2nd place $1,365 in cash, and the 3rd place winner a custom rod. Other prizes were given away for the largest sturgeon caught by a youth, woman, largest eelpout, largest sucker, and as well as many other door prizes.
Over a hundred sturgeon were caught and an unusual catch of a channel catfish over the two days. $12,000 plus in cash and prizes were awarded over the two-day catch and release event. Tournament participants also raised nearly $4,000 for the Lake of the Woods Take a Kid Fishing program. The monies will be used for lifetime fishing licenses that will be awarded at the event this year in June and for program expenses to continue to teach kids the lifelong sport of fishing. Many thanks to the gracious participants and sponsors who took part in this event. Your donation will make a big impact on many kids' lives for a lifetime. Thank you!
We want to thank all of the participants, staff, guides, tournament co-director, and emcee Bryan "Beef" Sathre and sponsors who once again made this year another huge success. Thank you!.
Congratulations to the 2021 winners!
Day 1
First Place-Dan Sheedy 63 1/4 x 21 inches
Second Place-Aaron Schmitz 61 1/2 x 23 1/2 inches
Third Place-Curt Howe 61 1/4 x 27 1/4 inches
Day 2
First Place-Chuck Hauble 65 3/4 x 29 1/4 inches
Second Place-Ben Cumber 65 3/8 x 30 1/4 inches
Third Place-Patrick Dunn 62 1/2 x 24 1/2 inches
Powder Puff -Hanna Hastings 57 1/2 x 25 1/2 inches
Largest Sucker- Brandon Dunn 22 inches
Largest Eelpout -K. Johnson 17 inches
Rainy River Walleye Tournament
Minnesota Tournament Trail
Frequently Asked Questions
What do I bring to wear?
In the summer you'll want to bring a variety of clothes due to the unpredictable weather. In May and June, be sure to plan for sweatshirts and jackets on the fishing trip. In July and August, the water and weather as usually warmed up so shorts, t-shirts, and swimsuits are the norm. However, it's always a good idea to have pants, long-sleeves, sweatshirt and rain gear just in case. In the winter, our transportation service to and from the fish-house is in a heated vehicle and the fish house is heated too. We recommended for winter fishing a warm winter jacket, hat, gloves, and some warm boots. It never hurts to layer up your pants with long underwear and/or bringing along snow pants. 
How big are the fish houses & how many holes are reserved per person?
We have four and six-person fish houses. The four-person houses have eight holes and are 8'X12′ in size and the six-person have twelve holes and are 8'X16′ in size. Two holes per person are reserved. Your group always has a fish house exclusive to your party.
How many people fit on a 27′ charter launch?
In accordance with U.S. Coast Guard Regulations. We can accommodate up to 6 passengers plus the guide on each boat.
Are there things to do in the area?
Of course! The Lake of the Woods Area has many sites to see. In Baudette, there are specialty shops, restaurants, tackle shops, a museum, an ice arena, sledding hill, miles of groomed snowmobile trails, a movie theater, a great city park with a skateboard park and more. An 18-hole golf course is open all summer just a few miles from the lodge. Just 30 minutes away in nearby Warroad, Lake of the Woods Brewery, casino, ice arena, summer theater, and much more. We have lots of areas for canoeing and kayaking, Zippel Bay State Park, the Pine to Prairie Birding Trail and Waters of the Dancing Sky Scenic byway are all great adventures to take in when you visit Lake of the Woods. But no trip is complete without a stop to Willie Walleye Park for a picture by the Legendary Walleye. You can find more information on things to do on our activities page by clicking here. If you are looking for more information on what there is to do in the area, a great resource is the Lake of the Woods tourism office online at lakeofthewoodsmn.com or by calling 800-382-3474.
What is included with the meals?
Our dining room and restaurant are second to none. Time and time again our guest comment on the delicious food and fantastic choices. Our restaurant is a hot spot for guests and locals to our area. Most of our meal plan packages start with dinner the night of your arrival, include breakfast, lunch, and dinner each of the days you are here and ends with breakfast the morning of your departure. In the winter beverages for lunch are not provided so be sure to pack some along.
Are there bathrooms on the boat or in the fish houses?
Yes, there are bathrooms on our charters. In the winter some of our fish houses have bathrooms or a Northwoods porta-potty is available upon request.
Where can I get a fishing license?
Fishing licenses can be purchased online or by phone 24 hours a day, 7 days a week by clicking here or calling 1-888-MN-LICEN (665-4236)
Is Off-Sale available at the Lodge?
Yes. Off-sale is available in the Sandbar Monday – Saturday 8 am to 10 pm and Sundays 11 am-6 pm. 
Can I bring my own fishing gear?
If you reserve a trip on the charter boats Sportsman's provides rods, reels, bait, and tackle. We also clean your fish. In the winter, if you reserve a fish house. We provide the fish house, transportation to and from the fish house, use of jig sticks or rods/reels, jigs, bait, and fish cleaning as well. You're welcome to bring your own gear for ice fishing and many of our guests do. For charter fishing, everything is supplied.
What is down-rigging?
It is a fishing technique designed to bring the tackle down into the deep water where the fish are most likely to be hiding. Downrigging is used mostly in the mid to late summer when the big Walleye head for the deep Mud Flats.
What time does the charter leave the dock?
All-day Charter Launch trips are from 8 am to 5 pm. Half-day Charter Launch Trips are from 8 am-12 pm or 1 pm to 5 pm.
Do you have Jacuzzi suites?
No, but we do have a pool. 
Is there air-conditioning?
Our lodge, lodge rooms, and villas are air-conditioned but the cabins are not. Fans are provided in the cabins.
Do you have an elevator?
No
Do you have smoking and non-smoking rooms?
The entire lodge, lodge room, cabins, and villas are nonsmoking.
Click here
to schedule a call with our Group Coordinator or click below to book your trip!